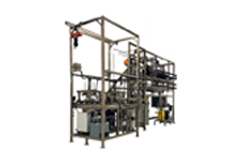 SuperFast™ CO2 Extraction
A more efficient, safer and organic way of obtaining plant extracts while preserving the plants' natural properties.
CO2 extraction is the best method to produce high quality hemp and botanical extracts - NO RESIDUAL SOLVENTS.
Nonflammable process leaves no solvents in the extract or the spent biomass
Lower operating costs because of the reduction in post-processing steps, clean-up and safety measures.
CO2 is a non-toxic solvent resulting with total chemical purity of the final product.
CO2 recycling, which significantly reduces carbon footprint and CO2 storage.